03/31/20
COVID SCAMS: Bulletin from the Wisconsin Department of Revenue
Download the PDF Bulletin Here
03/30/20
03/28/20
Dwell Audio Bible App
Dwell is a new audio Bible app that keeps Scripture in your ears and on your heart.
03/27/20
03/26/20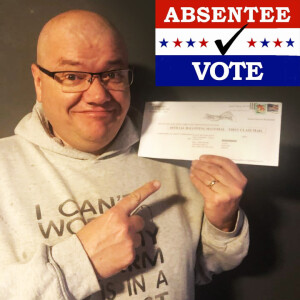 How to Vote Absentee in the April 7th Election
During Wisconsin's "Safer at Home" order, we encourage you to follow Pastor Paul's lead by voting absentee for the coming April election. Below are links to absentee ballot info for Eau Claire and Chippewa counties:
Absentee Ballot Information - Eau Claire County
Absentee Ballot Information - Chippewa County
The City of Eau Claire Offers "Drive-Up" Registration & Absentee Voting
The City of Eau Claire now offers drive-up voter registration AND absentee voting. The city building downtown is closed to the public, so you should approach from Dewey Street.
If you are NOT a registered voter: Proceed to the Registration Tent with photo ID AND proof of residency.
If you ARE a registered voter: Proceed to the Absentee Tent with photo ID. The city worker will run inside to verify you're a registered voter, and then return with your ballot.
Helpful Assistance Resources
03/25/20
Stay Connected with Family, Friends and Groups Using Zoom Video Conferencing
Download Jenna's Updated Zoom Tutorial
03/24/20
03/22/20
03/21/20
Government Relief Checks Trigger Coronavirus Scams
An article from wqow.com
Where to Find Food, Housing Help & More in Wisconsin
A great resource from www.wpr.org
Past Weeks
03/20/20
Dwell Audio Bible App
Dwell is a new audio Bible app that keeps Scripture in your ears and on your heart.
Listen to Stories on Audible - Kids Now Listen Free!
You can now visit
stories.audible.com
to will find hundreds of Audible's titles available completely FREE. The collection has been handpicked by Audible editors and is a mix of stories to entertain, engage, and inform young people, ages 0–18.
Get Full Access to RightNow Media through Jacob's Well
RightNow Media is basically a "Christian Netflix" that is completely FREE to families through Jacob's Well!
Stephanie's Top 5 Recommended Videos on RightNow Media
These video resources are hand-picked by Stephanie Anderson, our Resource Center Coordinator!
03/19/20
COVID-19: Five Helpful Responses for Families
Read article from consciousdiscipline.com
03/18/20
Download: Zoom Video Conference Tutorial
Eau Claire Health Department Coronavirus Updates

https://www.eauclairewi.gov/government/our-divisions/health-department/coronavirus
For Eau Claire County Child Care Needs
Visit www.childcarereferral.org
Or call their Hotline: 1-800-782-1880
03/17/20

Helpful Resource for Unemployment Questions Related to Covid-19
https://dwd.wi.gov/covid19/public/ui.htm
03/16/20
Meeting the Needs of Our Neighbors
As we begin this Coronavirus journey as a community, we want to assist our church body and our Share Partners in meeting the needs of our neighbors. If you have the desire to help others through this time of crisis, or if you are in need of help yourself, please and fill out the appropriate form below. Our team will contact you ASAP to help you take next steps!

03/14/20
03/13/20
The Eau Claire City-County Health Dept. has recommended and in fact encouraged us to cancel our services this weekend, purely as a preventative measure. After consulting with them, and with other local health professionals and officials, we believe this is a responsible step that we can take as a churchto help flatten the epidemic curve in our area.




As always, we will be recording and posting the video of this weekend's message, including worship. However, this weekend we will be posting it a littler earlier than usual, on Saturday night. Click here to visit our Messages page.

We encourage you to gather as a family this weekend, watch the service together and "have church" at home. We'll continue to post the Read Through Luke podcasts as we have in past weeks, and we may add some additional episodes as well, depending on how things look next week.

Below is a quick note of encouragement from Pastor Paul:

We are the church. When life gets real, that is when our faith gets real. When things seem to be falling apart, we pull together. I want to encourage you to turn to Jesus during these uncertain times. Ask Him to increase your faith and make you the best version of yourself. Speak encouragement and hope to those who are afraid. Speak courage to the young and those who are elderly. Help meet the needs of those who may be going through difficult times because of economic struggle. Let's remember to pray. Let's be the church. Please, take intentional steps to stay connected through our website. --Pastor Paul

We will communicate with you again as soon as we have further updates regarding our future schedule.