Watch the Project
Stay connected with all the progress through our Facebook and Instagram pages!
Live It Well
Everything about the Live It Well initiative flows out of love for God and others. If you aren't familiar with Live It Well, be sure to follow the link below before learning about the summer project. This will help you understand the heart behind everything we are doing.

BFC 2018 Summer Project
Come build with us! We are so excited to host our friends from Builders For Christ again to help us build our new venue! Look at the information below to see how you can be a part of the project.
Building Renderings
Weekly Building Schedule
T-Shirts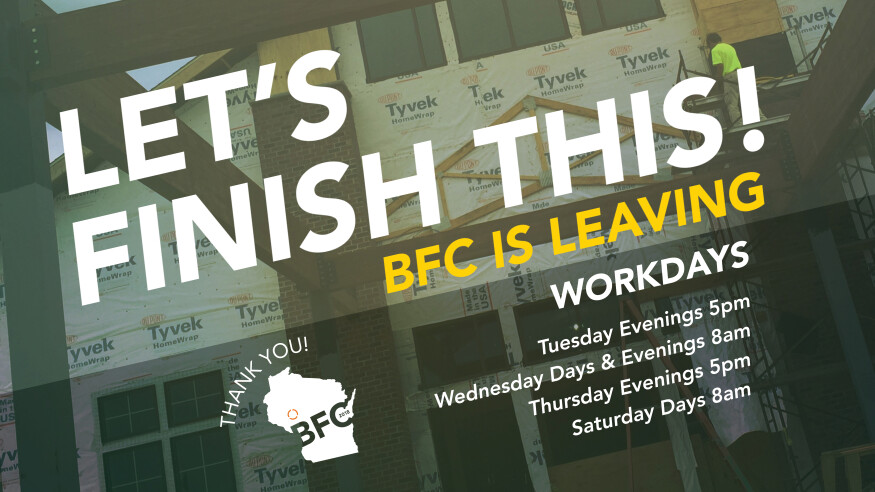 Current ways to pray for the project
In the time of Nehemiah, he desired to rebuild the wall around the city of Jerusalem and sought God to provide a way for this plan to move forward. In Nehemiah 2:20 he responds to those that think his plan is foolish. "The God of heaven will give us success. We his servants will start rebuilding.." So the families of the city joined together under Nehemiah's direction and worked side by side on the wall while standing against opposition. In 52 days the wall was completed. When all those in the surrounding area saw this work, "they realized that this work had been done with the help of our God." Nehemiah 6:16.
Our community and congregation realize the work that has been accomplished on the new building by BFC this summer, has been done with the help of our God. There is no other answer to all that has been accomplished here these last few months. As we end our time with BFC we rejoice in all the work that has been done by BFC and our Jacob's Well volunteers while at the same time we recognize there is more work to do. For this week, please pray that God will raise up volunteers who will be able to join in the effort to complete the building. May the Lord God guide and protect each volunteer and may their time together bring friendships, connections, and a deeper commitment to love the Lord and our neighbors.
Thank you for your prayers both now and through these past 3 months.