Eau Claire City-County Health Department COVID-19 Testing & Vaccination
Testing: Times • Vaccination: Times & Appointments • Map & Directions • FAQs
Past Updates
5/16/21
Masks are Now Optional in the Building
2/1/21
Jacob's Well welcomes Prevea Health COVID-19 vaccination clinic to serve our local community.
Click here for more information
1/6/21
JW Kids and JW Students Indoor Activities Set to Resume the Week of February 7, 2021
November, 2020
JW Kids and JW Students Indoor activities paused
Hey church, Pastor Paul here. As all of you know, we've seen a recent increase in Covid-19 cases in our area, and as a result, a great deal of pressure on our hospitals, schools and business community.
First, let me say thank you to everyone who is serving in health care—especially those working in our hospitals and senior facilities. Most of us will never really know and appreciate what you are experiencing and how much you are sacrificing; long hours with short staff, and stepping into life and death situations where family is not present. You are offering hope, healing and love in Jesus' name. Thank you! We love you, we appreciate you and we are praying for you.
I also want to recognize our teachers and everyone who is involved in our schools. You also are being asked to do more than is reasonable, and you are adapting and leading—making profound sacrifices to meet the needs of your students. Thank you!
I also want to affirm those who are leading business and other work environments. Many of you are having to face profound changes, complications and challenges. We recognize that your leadership and the decisions you make effect all the families that your employees represent. Thank you for your hard work and sacrifice.
We always want to be praying for our leaders in government and the public sector. First responders, police and fire fighters. Thank you for being on the front lines, protecting and caring for us. You are all doing God's work.
Parents I want to let you know, we understand that with schools going online your life has become very complicated. We as your church are making plans to create support and encouragement for you and your family.
Lastly, I want to talk to everyone who is facing an emotional or mental challenge right now, and to those who may be feeling isolated or alone. We as your church are working hard to create ways for you to connect with others and get the help and support you need. We love you and we are here for you.
This is a complicated time and figuring out how to be the church during this season has been challenging. We have been trying to balance health and safety concerns with the needs of volunteers and staff. And balance the well-being of the community with the real emotional, mental and spiritual need of people to gather and interact in-person.
From the beginning of this pandemic we have been adapting and innovating to meet the needs of families in ways that balance all these concerns. I must say that I am amazed and proud of our church overseers, staff and everyone who attends here. We have adapted and overcome. From this summer when we were all online—to our service to the community through the health department and our share partners—to this fall when some of us were able to gather in person once again.
As we have gathered again, we have seen the importance of people being together. Children, youth and adults. Every week I speak to people facing mental and emotional anxiety. People isolated, hurting or in recovery who tell me that our services are the point of hope they look to every week. That is why we have worked as hard as possible to keep in-person gatherings. However, now with the increase in cases and the call for our community to come together to fight this virus—we are going to make some changes:
First, we are suspending all JW Middle School and JW High School gatherings indoors, until the second week of January. In this way we will be in step with many school districts that are shifting to online learning. We will also be creating awesome new virtual experiences to help students stay connected to church, to God and to each other. And, we are planning several on-site, outdoor events for our students, that will follow strict social distancing procedures.
We will also be suspending all Sunday JW Kids activities indoors. This includes all ages—nursery, preschool, elementary and 6th graders in JW 6—who meet in the building on Sunday mornings. Again for our JW Kids ministry, we are also planning several outdoor family events, and you'll hear about those soon.
However, we WILL continue to have our regular Sunday services in-person, in the building on Sundays at 9am & 11am.
And we will continue having our online services at the same times.
Some of you may be asking, why are you continuing to have in-person services on Sundays? The short answer is that we believe we can offer these services in a safe and meaningful way and that they are crucial to the well-being and emotional, mental and spiritual health of many people.
Let me share why I believe it is safe:
We are blessed with a campus that has over 80,000 sq. feet. So, we can spread out our chairs and have proper social distancing in our hallways.


Our services are short, so most people are coming in and going right out.


We are requiring everyone to wear a mask. If you have a medical exemption for masks, we would ask you stay at home and participate in our online services.


We are sanitizing before, during and after both Sunday services.

We have hand sanitization stations throughout the building.


Our staff is working from home as much as possible and we are keeping all our volunteers safe.
We have simplified our need for volunteers by having everything no-touch, with no programs, communion, or handouts. Everything you need is online at jacobswellchurch.church.
And of course, our attendance is much lower, with about 25%-35% of our former attendance.
Honestly, we believe more people will chose to worship with us online, with the current situation and the changes we are making. We are not even close to 25% of capacity, considering the size of our building. We have plenty of room to be safe.
We have taken all these safety steps very seriously from the moment we opened the campus this fall and I am happy to report that over the entire pandemic we do not know of one instance where a person has contracted Covid-19 from any Jacob's Well activity. Not at a service, not in children's or youth or even a small group gathering.
We are working hard to be very, very safe. God willing, this track record will continue. We believe that for all these reasons we can continue to offer safe Sunday services in the building. This is so important because, with the focus on Corvid, many are not aware of the increase of addiction relapse, family crisis and the mental health crisis, born from months and months of social isolation. There are many who—for their wellbeing—need a weekly point of connection just to gather with other believers, so they do not feel so alone. Others who just need some degree of normalcy, that attending a safe socially distanced service can provide.
Many cannot return yet to a service because of a life situation, family connection, pre-existing conditions or the demands and requirements of their job, so we will continue to offer and improve our online experience for these people.
So, that is what we are pausing—
But what are we doing to move forward?
First, we are planning several outdoor experiences that we think are going to be awesome! Including a men's gathering and opportunities for families and groups to enjoy our beautiful property. This year we are decorating the exterior of the church with lights to create a place for families to visit and take walks together.
We are creating our own outdoor ice rink, a sledding hill and an area for bonfires. We will also have our trails open for snowshoeing. We are planning events for youth and children to gather safely outdoors with strict social distancing and masks required.
We are continuing to create incredible podcasts, prayer and devotional tools, RightNow Media trainings, and Makenzie's "In the Know" how-to videos on YouTube.
And we are very excited to announce that in December we will be launching LIVE live-streaming of our Sunday services. So, it will be more than just the pre-recorded services with live chat—you will soon be able to participate online, right along with the in-person service as it is happening in real-time. Either with the live chat, or without. So, even though we cannot all be together we can all gather in a whole new way, starting very soon.
The new live stream will be available in more ways, like on Roku, Facebook and YouTube and we are planning to launch an amazing new churchwide app that will be an invaluable tool to keep you and your family connected to Jacob's Well and to God.
This is going to make Christmas more special than ever. We will still have our 5 Christmas Eve service times in the building (1, 4, 7, 9 & 11pm), but this year all services will also have the real-time, live-stream as well. We are going to provide online tools so you and your family can join in the amazing candlelight services, either in person or right along with your church family, from your home.
We will also be offering a powerful daily Advent devotion that will coincide with our new Christmas series called "Arrival". This devotion has daily readings and scripture readings for you, suggested family activities and small group studies for every week of Advent. It is a powerful daily tool that can help you feel more grounded and will allow you to create more structure in your life. I also want you to know that our Care Team is available if you want to talk, or have a need, or you know someone who could just use a call. Please reach out on our Care Page.
Also don't forget Giving Hope, our initiative for Christmas, in which we are meeting needs of families in our area though our Share Partners. And like past years, all of our Christmas Eve offering will be used to meet needs and give hope to hurting people in our church, both during the holidays, and all year long.
Church, this is a season. We will get through this together and it will not always be this hard. It is worth the effort to stay connected. We need each other. Advent is a season of waiting, longing and anticipating.
This year, that seems more relevant and real than ever. So, tap into that and connect with each other, your church and the newborn baby King Jesus!
--Pastor Paul
06/12/20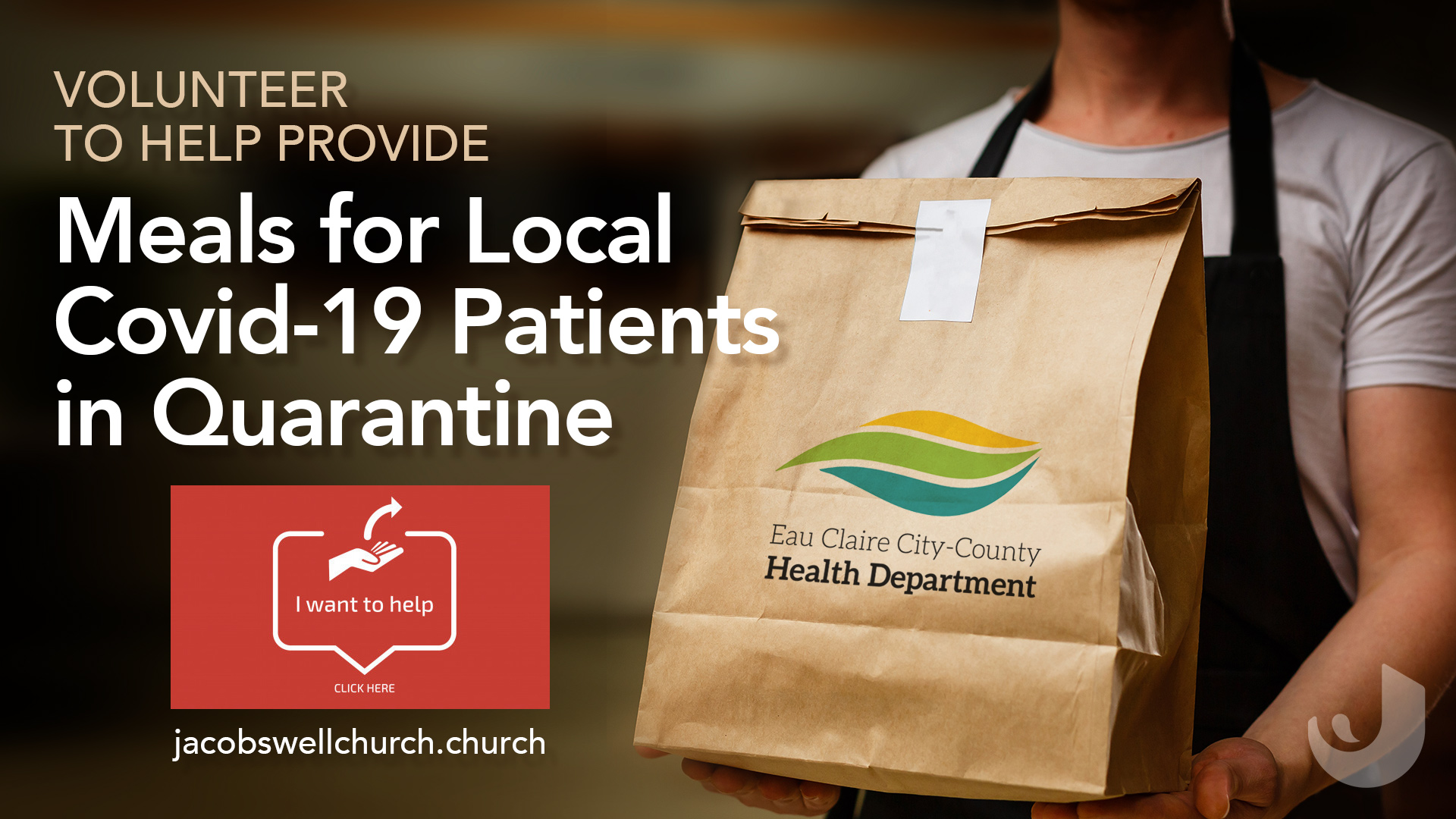 05/24/20
Pastor Paul explains why we will not have large gatherings until Mid-August. He describes what it really means to be "The Church", casting the vision for the next few months and showing how we will be "Better than Ever" during this season.
05/15/20
Pastor Paul announces that Jacob's Well will not have large gatherings on campus right away this summer.
04/28/20
04/23/20
04/19/20
04/18/20
Homemade Masks are Available FREE for Adults & Kids in Your Immediate Family! - Click Here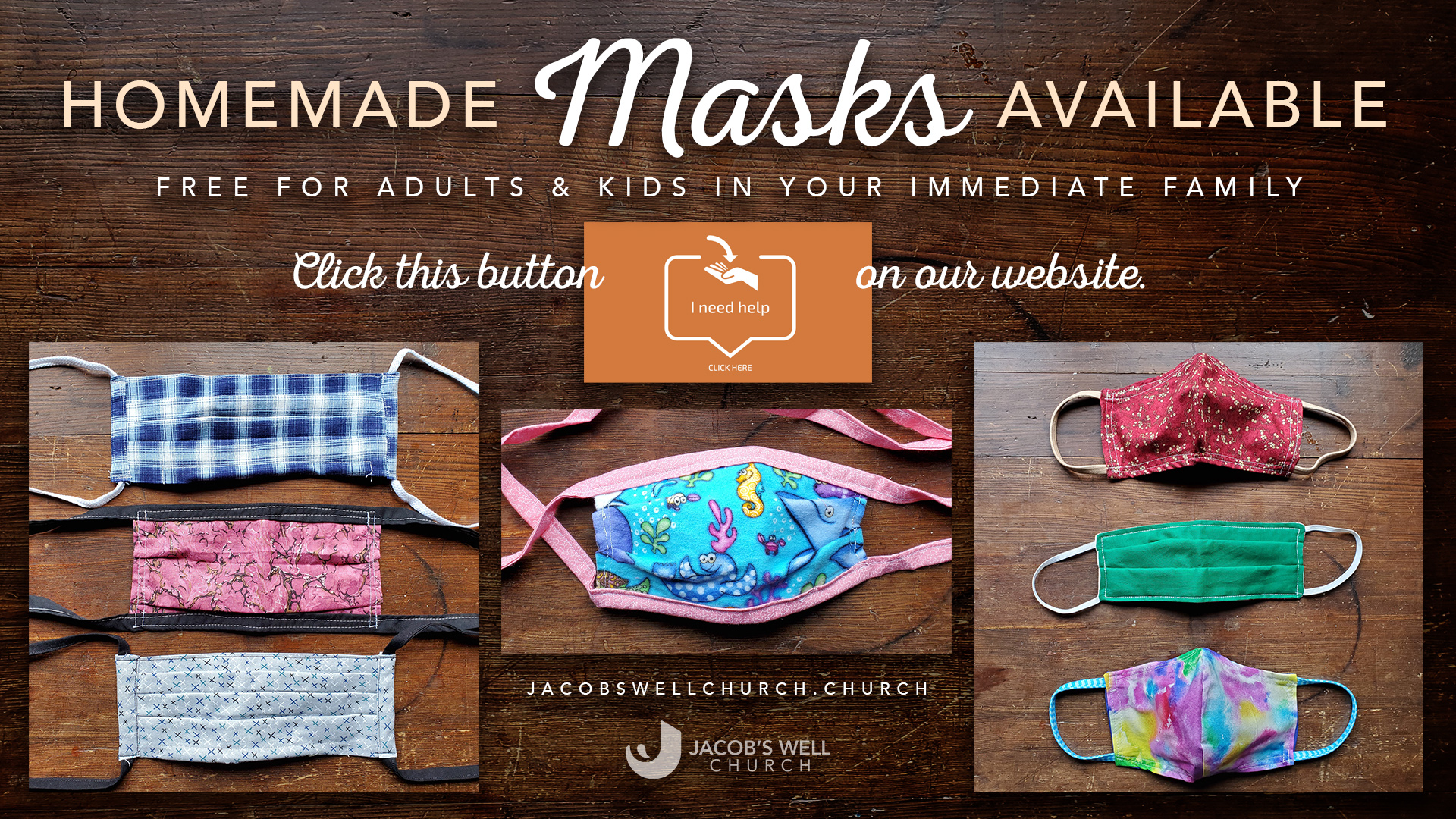 04/17/20
04/15/20
Midweek Worship led by Shua and Mackenzie
04/12/20
Happy Easter Everyone!
04/09/20
Worship from Home with Matt Rees
04/08/20
Drive-Up Easter Community Dinner from Hope Gospel Mission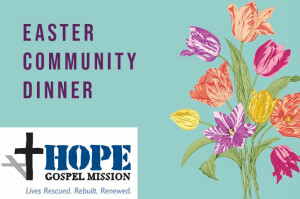 Hope Gospel Mission is one of our Share Partners and they are hosting their Annual Easter Community Dinner this Saturday, April 11th from 11:30am to 1:30pm! This is a special FREE community event held at the Hope Renewal Center for Men located at 2650 Mercantile Drive (across from Festival Foods on Eau Claire's west side). Because of Coronavirus, they are doing a curbside/takeout-style meal this year. It's FREE to everyone and will feature ham, scalloped potatoes, green beans, dinner rolls and dessert! Please come out and be sure to SHARE this with those who may want or need a hot meal this Easter!
04/06/20
04/05/20
04/04/20
New DIY Mask-Making Instructions
04/02/20
Midweek Worship with Shua and Olivia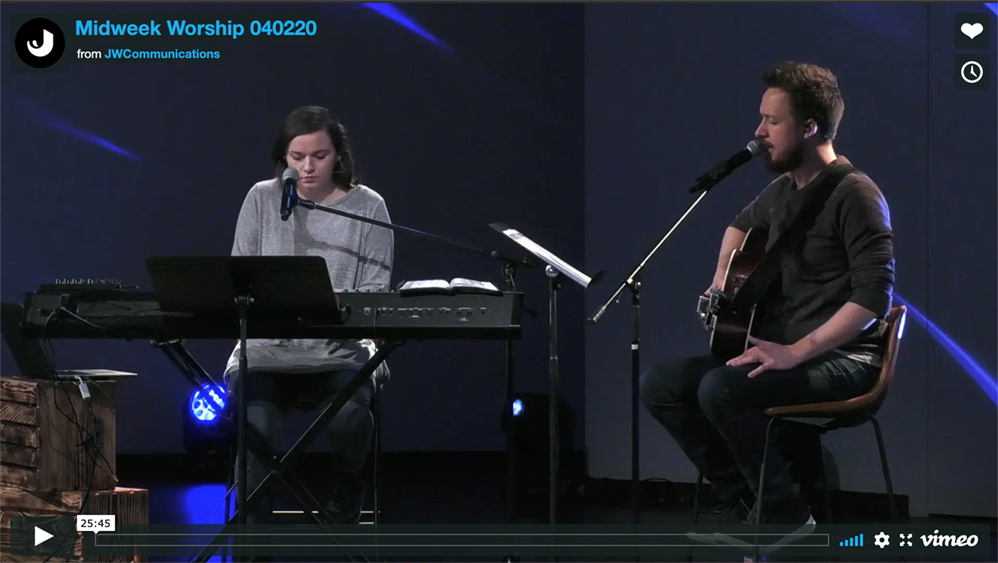 04/01/20
How to Sew & Donate Protective Masks for Area Hospitals
03/31/20
COVID SCAMS: Bulletin from the Wisconsin Department of Revenue
Download the PDF Bulletin Here
03/30/20
03/28/20
Dwell Audio Bible App
Dwell is a new audio Bible app that keeps Scripture in your ears and on your heart.
03/27/20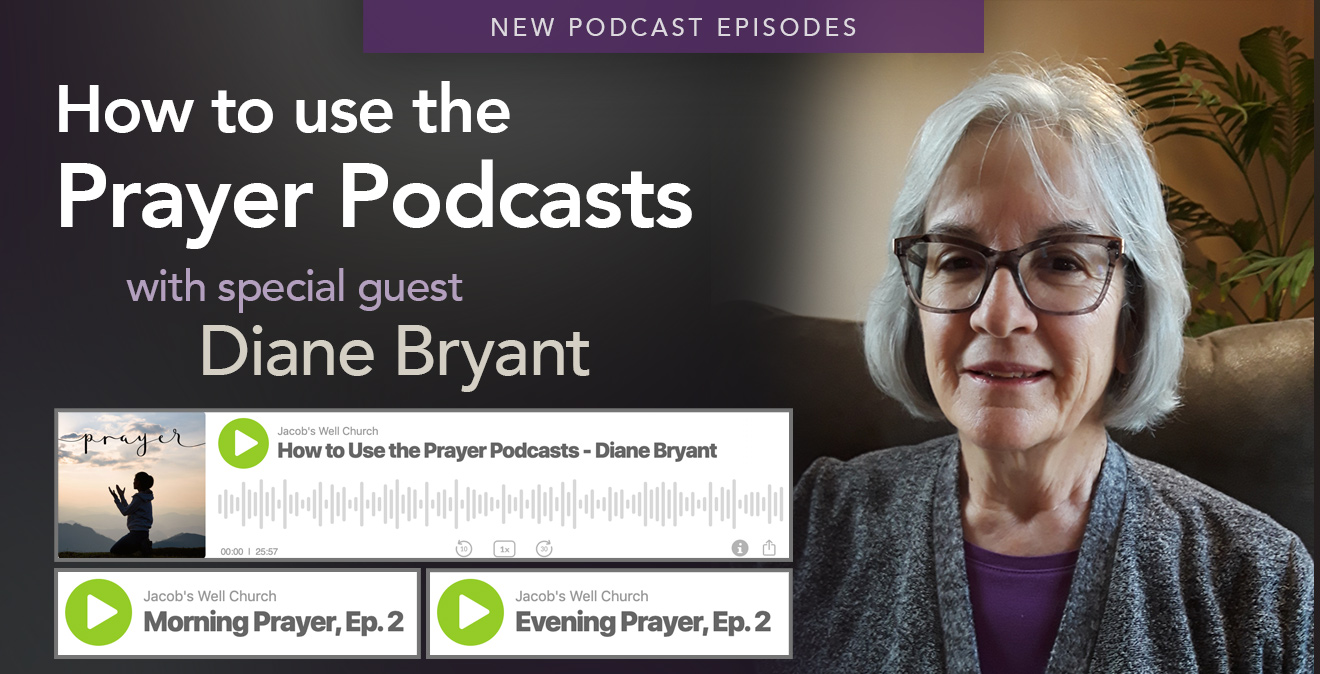 03/26/20
How to Vote Absentee in the April 7th Election
During Wisconsin's "Safer at Home" order, we encourage you to follow Pastor Paul's lead by voting absentee for the coming April election. Below are links to absentee ballot info for Eau Claire and Chippewa counties:
Absentee Ballot Information - Eau Claire County
Absentee Ballot Information - Chippewa County
The City of Eau Claire Offers "Drive-Up" Registration & Absentee Voting
The City of Eau Claire now offers drive-up voter registration AND absentee voting. The city building downtown is closed to the public, so you should approach from Dewey Street.
If you are NOT a registered voter: Proceed to the Registration Tent with photo ID AND proof of residency.
If you ARE a registered voter: Proceed to the Absentee Tent with photo ID. The city worker will run inside to verify you're a registered voter, and then return with your ballot.
Helpful Assistance Resources
03/25/20
Stay Connected with Family, Friends and Groups Using Zoom Video Conferencing
Download Jenna's Updated Zoom Tutorial
03/24/20
03/22/20
03/21/20
Government Relief Checks Trigger Coronavirus Scams
An article from wqow.com
Where to Find Food, Housing Help & More in Wisconsin
A great resource from www.wpr.org
03/20/20
Dwell Audio Bible App
Dwell is a new audio Bible app that keeps Scripture in your ears and on your heart.
Listen to Stories on Audible - Kids Now Listen Free!
You can now visit
stories.audible.com
to will find hundreds of Audible's titles available completely FREE. The collection has been handpicked by Audible editors and is a mix of stories to entertain, engage, and inform young people, ages 0–18.
Get Full Access to RightNow Media through Jacob's Well
RightNow Media is basically a "Christian Netflix" that is completely FREE to families through Jacob's Well!
Stephanie's Top 5 Recommended Videos on RightNow Media
These video resources are hand-picked by Stephanie Anderson, our Resource Center Coordinator!
03/19/20
COVID-19: Five Helpful Responses for Families
Read article from consciousdiscipline.com
03/18/20
Download: Zoom Video Conference Tutorial
Eau Claire Health Department Coronavirus Updates

https://www.eauclairewi.gov/government/our-divisions/health-department/coronavirus
For Eau Claire County Child Care Needs
Visit www.childcarereferral.org
Or call their Hotline: 1-800-782-1880
03/17/20

Helpful Resource for Unemployment Questions Related to Covid-19
https://dwd.wi.gov/covid19/public/ui.htm
03/16/20
Meeting the Needs of Our Neighbors
As we begin this Coronavirus journey as a community, we want to assist our church body and our Share Partners in meeting the needs of our neighbors. If you have the desire to help others through this time of crisis, or if you are in need of help yourself, please and fill out the appropriate form below. Our team will contact you ASAP to help you take next steps!

03/14/20
03/13/20
The Eau Claire City-County Health Dept. has recommended and in fact encouraged us to cancel our services this weekend, purely as a preventative measure. After consulting with them, and with other local health professionals and officials, we believe this is a responsible step that we can take as a churchto help flatten the epidemic curve in our area.




As always, we will be recording and posting the video of this weekend's message, including worship. However, this weekend we will be posting it a littler earlier than usual, on Saturday night. Click here to visit our Messages page.

We encourage you to gather as a family this weekend, watch the service together and "have church" at home. We'll continue to post the Read Through Luke podcasts as we have in past weeks, and we may add some additional episodes as well, depending on how things look next week.

Below is a quick note of encouragement from Pastor Paul:

We are the church. When life gets real, that is when our faith gets real. When things seem to be falling apart, we pull together. I want to encourage you to turn to Jesus during these uncertain times. Ask Him to increase your faith and make you the best version of yourself. Speak encouragement and hope to those who are afraid. Speak courage to the young and those who are elderly. Help meet the needs of those who may be going through difficult times because of economic struggle. Let's remember to pray. Let's be the church. Please, take intentional steps to stay connected through our website. --Pastor Paul

We will communicate with you again as soon as we have further updates regarding our future schedule.