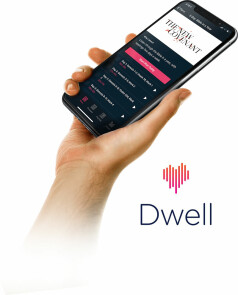 Listen to the Bible on the Dwell App FREE– It's on us!

Download & Install the Dwell app
Search for the Scriptures you want to hear
Listen! Yep, it's that easy!
Listen to Jacob's Well Devos & Reading Plans, on the Dwell App!
If you're a Dwell user, and you join the Jacob's Well Group, you can subscribe to Jacob's Well's custom reading plan, and set reminders to listen daily.
If you subscribed to Dwell free through Jacob's Well, you'll find our reading plans on your "For You" page, under Jacob's Well Church.
If you already have your own Dwell account, you will need to join the Jacob's Well Church Group in order to see our reading plans. Please follow these steps to join the JW Group:
Open a web browser and go to https://dwellapp.io (NOT in the Dwell App)
Sign in with your own username and password
In the same browser, go to our JW/Dwell landing page: https://dwellapp.io/signup/with/jacobswellec
Join the JW Group
Re-open the Dwell App
Log out, and log back into the Dwell App (this is important)
On the For You page, you should now see the Jacob's Well Church link
Our JW custom reading plans are listed there