Over the past two years, through your commitment to giving to Legacy through OneFund, we've accomplished everything we set out to accomplish, and more!
December 2019
Launched the Legacy Campaign
2019-2021
Completed & Renovated Key Areas of Our Facility: JW Kids Security, Worship Center Landscaping, Theater Renovation
March 2020 & 2021
Completely Rebuilt and then Expanded the Emergency Fund
October 2020 & March 2021
Completely Paid Off the 2011 North Venue Mortgage
March 2021
Established a Capital Replacement Fund
June 2021
Commissioned the New "20-Somethings" Ministry

Funded the Pastor Position and 2 Years of Ministry Operations

Began Development of the 96 Acres

Engaged a Planning Architect to Discover "What is Possible"
A Study from February 14 - March 28, 2021, and beyond!
RENEWAL is...
Renewing Our Commitment to following Christ
Becoming Active in our spiritual formation
Wholeheartedly Participating in the process of discipleship with one another
Taking Steps to know and become like Jesus
Ways to Watch
From Feb. 14 - Mar. 28 the Sunday messages covered one of the seven stages of RENEWAL: Journey, Thirst, Search, Know, Experience, Depth and Community.
Study Guide
Daily readings and devotionals that correspond with the weekly Sunday messages.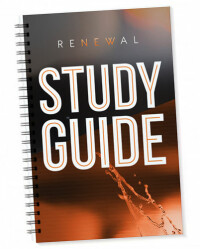 Daily Devotions
Daily devotions are included in the printed Study Guide and in daily blog posts.
The Vision
Create in me a clean heart, O God, and renew a right spirit within me.
Psalm 51:10
…work out your own salvation with fear and trembling, for it is God who works in you
Philippians 2:12b-13a
Psalm 51 is a calling for renewal. Years ago as I read this passage, I was struck by two words in verse 10—create and renew. These two words seem to be at the heart of growth. After a season of drift, lethargy, and no direction, we need God to create something new in us and renew something once established in us. That is the heart of Renewal.
2020 was traumatic for all of us as individuals and as a people. Understandably, we have been doing our best to survive, maintain, and get through a unique and challenging season. This has left us with the need to rediscover the joy of following Jesus. As we seek Him first, God creates something new in His relationship with us while renewing our foundation in Christ. Experiencing a Renewal of focus to know Him deeper in relationship causes us to grow. Growth in Him changes us, and does not let us return to life as before. Now is the time to move forward. Now is the time to be intentional, to make progress, and to experience Renewal, because following Jesus leads to transformation. The more we know Him, the more we trust Him, and the more we are changed by His Presence.
I hope you will join us and fully engage as we walk through the Renewal series together!
--Pastor Paul Berthiaume
ABOUT LEGACY
Legacy is a gift, handed down from one generation to the next. It's what lives on after us, allowing us to have influence for God after our lives here on Earth. Legacy is about taking all that has been entrusted to us and making it better for the next generation. It's all about Choosing a Life that Matters!
LEGACY WEEKLY MESSAGES
LEGACY FIRST FRUITS WEEKEND
LEGACY WEEK 6
LEGACY WEEK 5
LEGACY WEEK 4
LEGACY WEEK 3
LEGACY WEEK 2
LEGACY WEEK 1
LEGACY WEEKLY GROUP INTROS